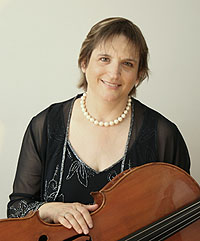 Israel musician Michal Schmidt served as the Brandywine Visiting Artist at West Chester University in Pennsylvania. In this role she performed concerts and taught master classes at the university throughout the academic year 2013-2014. In fall 2014 Michal was invited to be the principal cellist of the Chamber Orchestra of Philadelphia for a twenty-city tour with the orchestra and soloist Branford Marsalis.
She is an instructor for cello and chamber music at Haverford and Bryn Mawr colleges, as well as Swarthmore College. At the University of Pennsylvania she teaches in the College House Music Program. During the years 2000-2008 Michal was on the faculty at Dickinson College in Carlisle, where she taught cello and was in charge of chamber music activities at the college.
Ms. Schmidt performs with various ensembles in the Philadelphia area: Network for New Music, Penn Composers Guild, the Hildegard Chamber Players, Trio Camille and Piano4, among others. Michal and two of her Israeli colleagues have recently established the Tiadam piano trio, and the group is preparing for its second tour of concerts in Israel for winter 2015.
In Philadelphia Ms. Schmidt has launched the series "TRIBUTE," which is dedicated to performances of works by composers with whom she has collaborated extensively. Composers whose works have been featured include: Osvaldo Golijov, Robert Maggio, Laurence Sherr, Cynthia Folio, Jay Reise, Kevin Copes, Scott Eggert, Mats Lidström, Ari Ben Shabetai, Noam Sivan, Heidi Jacob, Ingrid Arauco, Richard Wernick, Philip Maneval, Robert Capanna and many more.
Special "TRIBUTE" concerts included a marathon of Brahms' cello and violin sonatas (2004) a Schumann Tribute (2010) and in May of 2015 Michal will perform all of Beethoven's cello sonatas.
Ms. Schmidt has been a double major instrumentalist throughout her career. She studied at Rubin Music Academy in Tel Aviv, Israel, the Royal Academy in London, England, and in the US at the Curtis Institute, University of the Arts and Temple University. Michal was the winner of scholarships from the American Israeli Cultural Fund and the Israeli Arts Council which enabled her to study in Europe. At the Royal Academy she received the Harold Samuels and Tobias Matthay Awards and was the only student ever to receive two Artist Diplomas on two instruments in a single year.
Her teachers included cellists Uzi Wiezel, David Soyer, Lorne Monroe and Jeffrey Solow. Under Mr. Solow's tutelage, Michal received her doctorate degree in Cello Performance at Temple University, centering her dissertation on the cello sonatas of Beethoven. For that project Michal recorded two of the sonatas playing both the cello and piano parts. (Recording available on CDBaby.)
Ms.Schmidt has participated in numerous master classes and lessons with members of the Guarneri Quartet, cellists Lynn Harrell, William Pleeth, and Mischa Maisky as well as pianists Claude Frank, Peter Serkin, Raquel Adonaylo, Ilona Vincze (Israel), and Dennis Murdoch (UK).
In the summers, Michal is active in several festivals, including Summer-Trios, Maine Chamber Music Workshop, and Lake Forest Chamber Music Seminar.